Het Zwet. A beautiful little lake.
Location: Jisp a typical Dutch village in the Netherlands.
Birds, cows, a farmer, ducks, Rup the Heron and a family swans. They all live here.
Nothing really happens, but at the same time, nothing stays the same.
Every day the Zwet looks different.
The colors, the weather the sunsets and the clouds.
People come here to sail.
Kids swim in the lake and in winter they ice skate.
Johanna lives here too. Works from her house as a freelance creative.
And also as an artist. She loves nature.
Makes drawings of her glorious view on the lake and the birds that live here.
And now she has her own tv-station.
With this channel she wants to share her view on het Zwet with you.
So join Zwet.tv and See how 'het Zwet' changes real slow every day.
From spring to summer from autumn to winter from day to night.
See the small swans grow big. How the cows are moved by boat.
See the lovely sunsets and watch the storms pass by.
Will do you good.
Watch LIVE @Zwet.TV Enjoy!!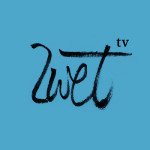 Watch ZWET.TV on YouTube